Oromo Cafe & Their Partnership with Liberty Insurance Agency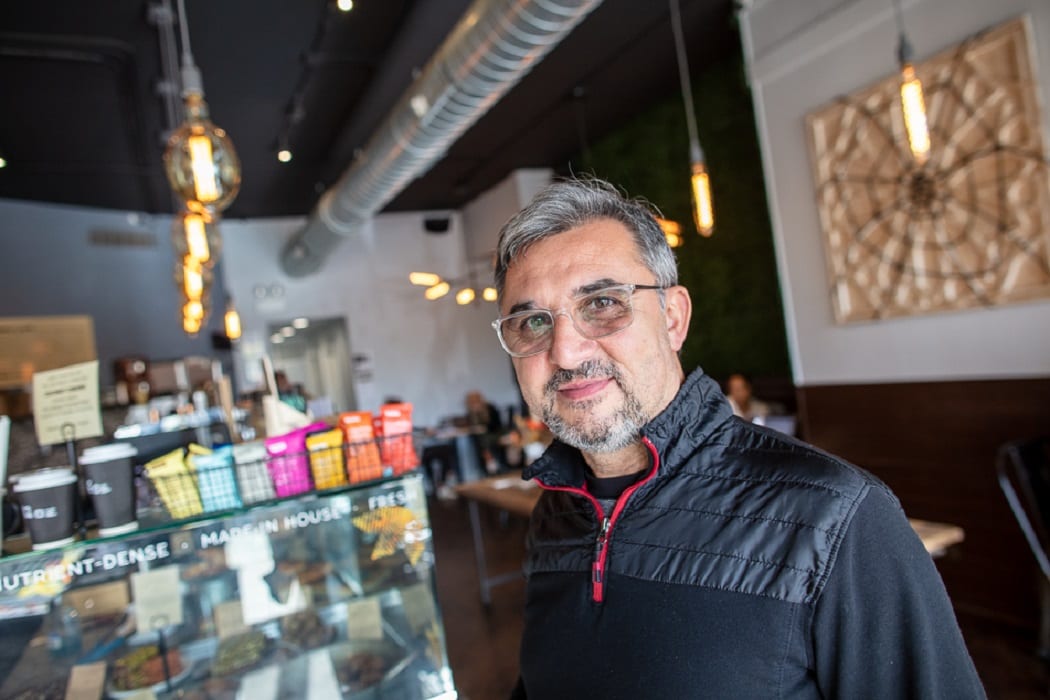 Ed Duman is a Chicagoan, father, entrepreneur, and owner of Oromo Cafe. He's also a Liberty Insurance Agency customer. We recently interviewed Ed to find out more about his unique business, the impact of COVID-19, and his experience with Liberty Insurance Agency.
 Oromo Cafe has a very interesting backstory. How did you decide to start it?
My son was in college and had a part-time job at Starbucks that he was really dedicated to. He impressed me a lot with how hard he was working and how enthusiastic he was about that job. Then he came to me one day and said that he didn't think college was really for him, but that he wanted to start a business with me; specifically, a fusion restaurant. I had long had my own dream of opening a little cafe. So I suggested we start there. My son came back to me with this idea of crafting a menu using recipes from around the world, using organic and fair-trade ingredients to advocate for environmentally and culturally responsible products. The menu items are all nutrient-dense, spiked with superfoods, and perfect for people with dairy or gluten issues as we make all of our own nut milks in-house. It took about a year for us to construct our first Lincoln Square cafe; by August 2016 we were open.
How did the neighborhood react?
Right away, Oromo was received very well by the neighborhood. And then we started getting attention from around the city and beyond. In our first year, we were ranked among the top 10 coffee shops in Chicago. The following year, we were #1. And last year, Big 7 Travel named us the #13 best coffee shop nationwide, out of 50 total, and the only one in Chicago. Things were going so well we opened a second location in Bucktown in October 2019.
You use Liberty Insurance Agency for Oromo Cafe's business insurance. What do you appreciate about working with them?
I've been a Liberty Insurance customer for at least three years, and honestly, I wish it was longer. David is one of the best people I have ever met in my life, both to work with and as a friend. From day one, the way he handled and followed through on all of my insurance issues has been incredible. All of my headaches about my insurance situation have been eliminated, and I have all the confidence in the world in him.
How did you end up working with Liberty Insurance Agency?
I'm a serial entrepreneur and I have a couple of other businesses in addition to the cafe – a mechanic shop and a frozen yogurt store – and at first, I trusted a good friend who was an insurance agent to handle our business insurance. But he didn't show us the respect and trust we were looking for. I'm old-fashioned; I don't shop around on price, but rather on relationships. Once I felt neglected, it prompted me to look at alternatives. I was already familiar with Liberty, so I met with David and the rest is history. I couldn't be happier with my experience with him.
How has the COVID-19 pandemic affected business at the cafe?
You know, we've been surviving thanks to all the great people in the neighborhood who have supported us so strongly. I know we're going to recover from this, but business has definitely been down. Before the pandemic, we did not have any kind of online ordering or delivery. Our lattes are so beautifully decorated, and the ambiance of the cafe is so nice, that our products are really best enjoyed in-house. Well, in March or April of 2020 we finally got on GrubHub and DoorDash.
How can customers support you better until this pandemic is behind us?
We now have our own online ordering system for pickups, through our website. Ordering directly through our website saves us some money on the commissions. If you need delivery, search for our cafe by name in GrubHub or DoorDash rather than by a keyword like "coffee". You're sure to find us that way.
What advice do you have for other entrepreneurs?
To any entrepreneurs whose businesses are struggling right now: there's nowhere to go but up. Hang in there as best you can. As a business owner, you are the leader and the face of the company. So set a good example in your attitude and wait for the good times to come back!
If you're thinking about starting a business, I'd say that if your goal is to make money, don't even start. Your goal should be to make people so happy that they want to come back. If you do that, they'll come back, they'll recommend you to friends, and you'll make money automatically. Focus on how you can help someone rather than how much money you can make. People can see and feel that, and once you give them that feeling of trust, your business will thrive.
Want to feel as good as Ed does about his insurance agency? Turn to Liberty Insurance Agency for business, life, home, and auto insurance. Contact us for a free quote on home or auto insurance!
---
Liberty Insurance Agency, Inc. is a subsidiary of Liberty Bank for Savings.  Insurance products and services are not bank products or services nor are they FDIC insured or insured by any federal government agency.  They are not a deposit or obligation of or guaranteed by Liberty Bank and may involve investment risk, including possible loss of principal. Applicants are individually underwritten and some individuals may not qualify.